My birthday is the week after next. Have I ever mentioned how excited I get about birthdays? Super excited. I am like a little kid again. Especially the night before. I can't sleep a bit! Isn't that silly? It's true though. I am transported back in time, dreaming about my birthday party, the cake and balloons and the pretty wrapped presents. I love the feeling on my birthday of having a secret... of walking around and thinking "That person doesn't even know it's my birthday today!"
Anyway, before my big day rolls around in April, it's my mom's birthday. We're having a birthday brunch party at my house this weekend, complete with scones and muffins and fruit and tea (of course!) The boys are practicing the birthday song again in preparation! In the meantime, I'll just dream up my birthday wish list. Hear that, Alan? You've still got lots of time to go shopping... In addition to the usual books and spa-treatments (!), I'm hoping for:
I love these "paper pastry" airmail stickers that
Micaela
wrote about a few weeks back. Aren't they pretty? Apparently all letters go via airmail these days and I don't actually need to label them such, but I don't care! I'm ignoring the indignant woman at the post office. I want these.
If you've been reading my blog for a while, you'll know how much I love the "Keep Calm and Carry On" saying. It's my mantra. I repeat it (in my head) when I find myself getting frustrated, upset, or just generally ticked off. I still don't have my own copy to hang up in the house, but I definitely need one. I'm not sure which colour I would choose, but this sage green is gorgeous, isn't it? And I love the simple white frame.
I love Kim's blog
Fill Your Well
, and I adore her coffee cozies! I think I'd like to get this one for my April birthday. It's so perfect for spring. Just think of all the chai tea lattes I could enjoy with this little beauty wrapped around my cup...
How much do I want this pack of one hundred book cover postcards? Soooo much.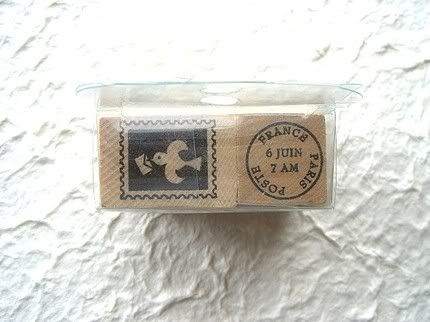 Okay, so I might not get to spend my birthday in Paris (le sigh) but I can at least pretend by stamping this Paris postmark on all my outgoing mail...
Thanks for indulging me and my birthday dreaming. Hope you're having the most wonderful Wednesday.
E xo